How to Find (Almost) Anyone's Email Address
If you care about your site's SEO, the ability to quickly find someone's email address is a crucial skill.
Without email addresses, you can't do outreach to other websites. Without outreach, it's tough to get backlinks. Without backlinks, you will have a hard time improving your website's rankings.
To help you avoid this endless loop of negativity, we're about to share 5 proven methods that will help you locate just about anyone's email address.
Email Finder Tools
There is an abundance of email finder tools out there, some of which are better than others.
These tools are remarkably easy and quick to use, so we recommend starting here when you're on the hunt for an email address. Watch the 10 second GIF below to see just how easy it can be.
We've scoured the internet to find the 7 most highly recommended and effective tools. Here's what we found:
Find That Email: Free accounts get 50 searches per month. Premium accounts cost as low as $29/month for 500 searches ($0.058 per search).
Hunter: Free accounts get 50 searches per month. Premium accounts cost as low as $49/month for 1,000 searches ($0.049 per search).
Email-Prospector Pro: 7-day free trial comes with 50 searches. Premium accounts cost $1,195 per year for 4,000 searches ($0.299 per search).
Find That Lead: Free accounts come with 50 searches. Premium accounts cost as low as $49/month for 5,000 searches ($0.0098 per search).
Clearbit Connect: Free extension for Gmail and Outlook with 100 searches per month.
SellHack: Free browser extension with 10 searches per month. Premium accounts cost as low as $3/month for 100 searches ($0.03 per search).
Voila Norbert: Free trial comes with 50 searches. Premium accounts cost as low as $49/month for 1,000 searches ($0.049 per search).
Combining the use of these tools will get you 360 free searches to work with from the start, plus another 260 searches every month with your free accounts.
Keep in mind that even the best of these tools aren't accurate every single time. An Ahrefs experiment found that Find That Email and Hunter topped the list by finding the correct email 81% of the time.
If you run out of searches and don't want to pay for any of these services, try the free methods below.
Use Search Operators on Google and DuckDuckGo
There are a few ways to use search engines to find email addresses.
Search "@domainnamehere.com" on DuckDuckGo
If you run an exact match search in DuckDuckGo for "@domainnamehere.com", you will find all public email addresses related to the domain. You can narrow the search further by adding the name of the specific person for whom you are searching.
Note: this trick doesn't work as well with Google because they use the "@" symbol for social tags.
Use Google to Search Twitter
If your prospect uses Twitter, this can be a very effective method. All you have to do is type twitter.com/username email into Google.
This will show you all of the times your prospect has said "email" in one of their tweets. If you're lucky, they will have shared their email in one of these tweets.
Try Standard Search Operators
When all else fails, try some of the following search operators as recommended by SiegeMedia:
NAME email
NAME contact
"FIRSTNAME LASTNAME" email
"FIRSTNAME LASTNAME" contact
site:WEBSITE.com name email
site:WEBSITE.com contact
site:WEBSITE.com about
"NAME"
Simply replace the capital letters with the name and/or website of your prospect. If you don't know your prospect's domain, or if they have more than one of which you're unaware, the "NAME" operator will be particularly useful.
Search or Ask on Social Media
If your prospect is active on any social media platforms, you may be able to find it on their page or by running an advanced search.
For Facebook, check the "About" tab of their page. There's a solid chance you'll find their email under contact info, if not another way to contact them.
For Twitter, you should take advantage of advanced search and/or Snap Bird. Most people won't share their email in the form you're expecting (e.g. joe@joessite.com) to avoid being found by bots that crawl the internet (for spam targets and the like). All you have to do is replace the "." and "@" symbols with "dot" and "at", respectively. You can also try terms like "email" or "contact" to narrow your search further.
Here's an example of using Twitter advanced search to find statistician Nate Silver's email address:
These basic queries resulted in a handful of tweets from Nate, including this one:
Looks like Nate shared his personal email address back in 2011 (before he gained mainstream popularity). If you really needed to get in touch with Nate, this email would be worth trying.
Email a General Address and Ask for a Transfer
Provided you know your prospect's domain name or company/employer, you can try reaching out to a general email address or using a contact form. Ask to speak to your prospect in your message.
Alternatively, you can try signing up for your prospect's newsletter, then reply and ask them to connect you with the person you want to reach. This went really well for Nick Churick over at Ahrefs when he was trying to get in touch with Brian Dean of Backlinko: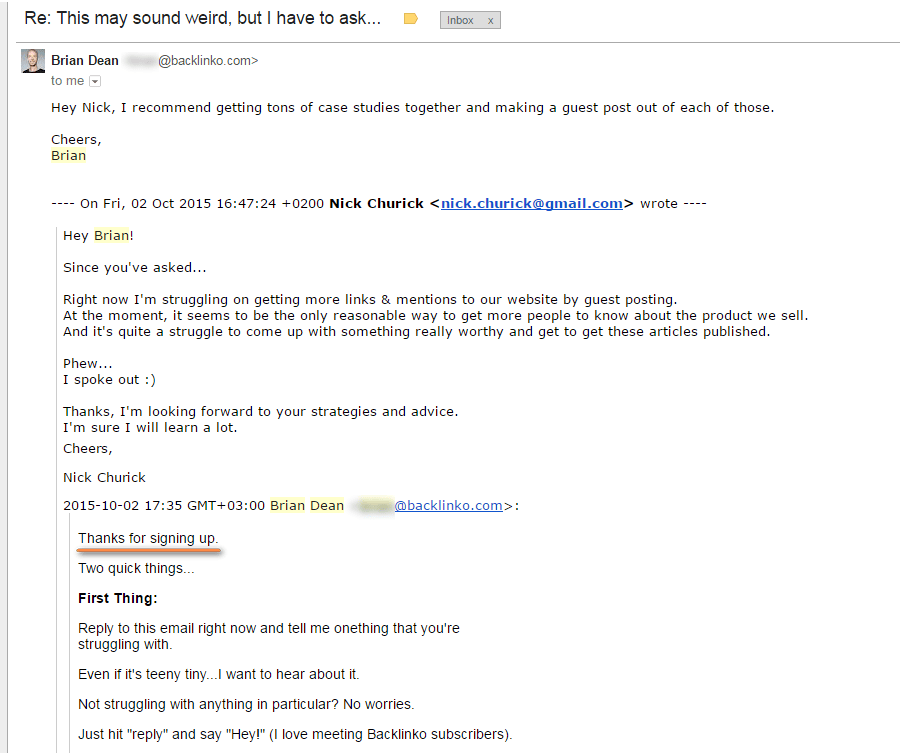 He signed up for Brian's newsletter and replied to the first email that was sent, to which Brian replied with some thoughtful advice.
Use Email Permutator
You could manually type out every possible variation of a prospect's email (joe@joessite.com, joejohnson@joessite.com, joe.johnson@joessite.com, etc.), but that would take quite a while.
Luckily, Email Permutator exists. This Google Sheet was created by Rob Ousbey of Distilled. It allows you to quickly get a list of common variations of your prospect's potential email addresses. All you have to do is input the most basic details: first name, last name, and domain.
Then, copy and paste the results into a new email on Gmail and put your mouse over each result. If you only see a bunch of blank profiles, your search likely came up empty. But if you see a custom or standard letter avatar, you probably just found your prospect. For example:
All of the emails on this list display a blank avatar except for neil@neilpatel.com, which displays his custom avatar, social links, and phone number. Found you, Neil!
Verify to Save Time
If you don't verify the email addresses you find, some will get returned to you as undeliverable. To avoid wasting time in this way, you can use one of the options below:
Final Thoughts
You won't always be able to find someone's email address, especially if they really don't want anyone to find it. But if your prospect's email is anywhere on the internet, trying each of the methods above will give you a great chance of tracking it down.
Want to get valuable backlinks without spending time searching for email addresses? Contact our experts now!